How You Hang Your Hardware
Question
What is the best way to secure Wi-Fi survey adapters and spectrum analysers to my laptop for survey?
Here are some of the professional solutions I have encountered:
HubHolster
HubHolster - 3D Printed Tools for WLAN Professionals
HubHolster is of a pair of 3D printed clips, that allow you to easily secure your USB Hub to the top of your laptop screen. Each HubHolster is designed to fit a specific model USB Hub.
Also available are dBx spectrum analyser holders.
Creator: Robert Boardman on Twitter @Robb_404
LEGO backed laptop case
Brik Book - LEGO® Compatible MacBook Case
Credit to  Jerry Olla, @Jolla, by fixing a LEGO piece to the USB hub and dBx spectrum analyser with glue, this LEGO compatible case enables you to secure the survey gear to the back of your laptop screen.
ALFA Network Dongle Clip
Available on Amazon
Produced by ALFA Network, these inexpensive plastic clips allow you to easily clip USB type-A receptacles to your laptop screen.
This method lends itself toward using an "Octopus" Hub (USB Hub with pigtails). I have had great success with this particular CSL USB 2.0 Hub.
I have written about the Dongle Clips before USB Dongle Clips.
Octopus Hub Modifications
The CSL USB Hub is cheap and cheerful USB 2.0 Hub that has served me well. The plastic casing is very easy to pop open making this product perfect for DIY modifications.
Two-Port USB Hub - Wi-Fi Survey Adaptors
I found it to be a little awkward with four USB type-A receptacles clipped to the back of my laptop screen. The obvious thing to do was remove two of the pigtails! You could simply cut two of the pigtails off (this would be sufficient), but if you prefer to "do things properly", keep it neat and tidy, I suggest you pop open the case, remove the glue from the solder joints and get in there with the soldering iron.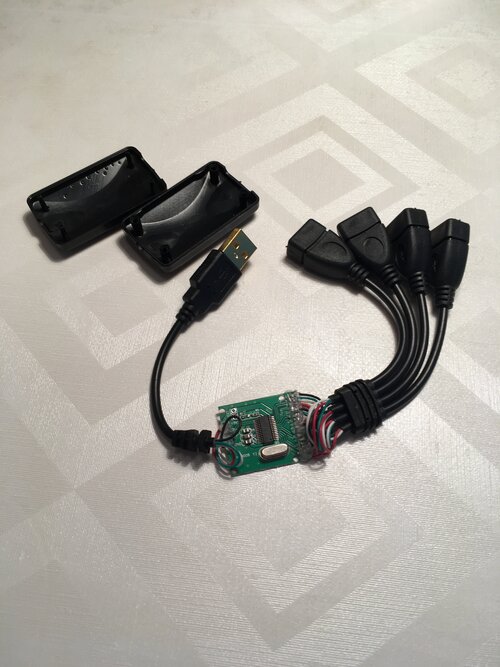 USB 2.0 only requires 4 wires (2 pairs), I find there is usually enough room on the PCBs to be effective with a soldering iron, however, this level of MacGyverism will probably not be possible in the future as we begin to deal primarily with USB type-C connecters.
Two-Port USB Mini-B connector Hub - Ekahau Spectrum Analyser / dBx
I really like the ALFA Network Dongle Clip method for securing survey adapters to my laptop, with a junior hacksaw and superglue I moved the slots from the ALFA Network receptacle holders onto my Ekahau spectrum analysers.
The next logical step would be to exchange 2x USB type-A receptacles for USB Mini-B connectors, specifically for the spectrum analysers.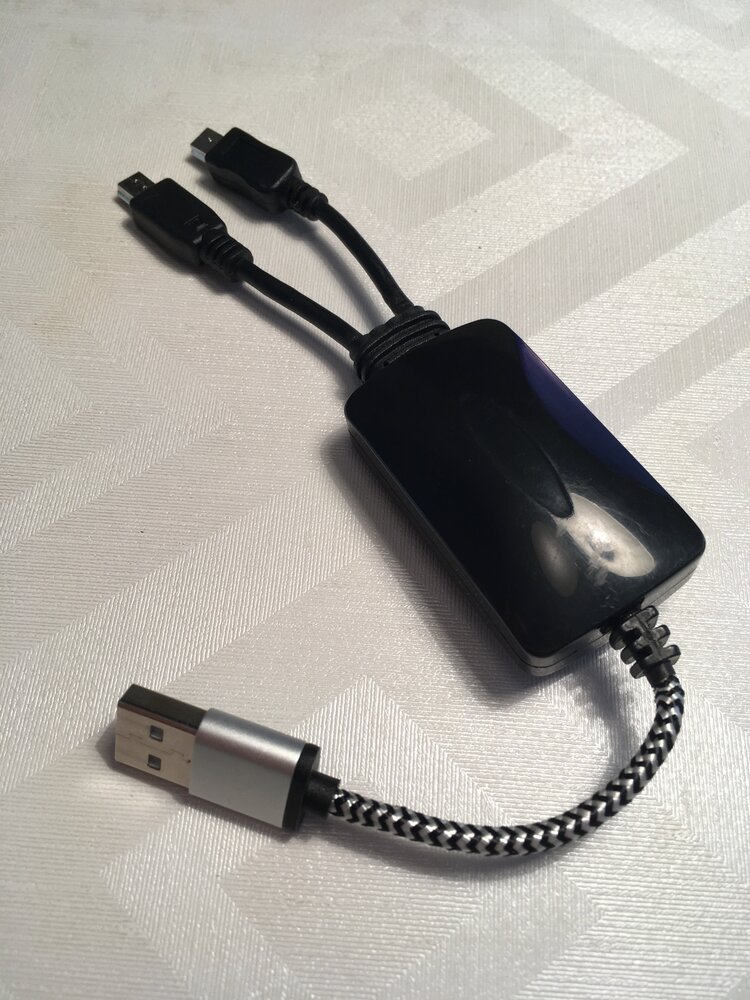 The end result
Right Angle USB type-C Connector
The final piece of the Dongle Adapter puzzle! The 2016 MacBook Pro with USB type-C ports, how to achieve the right angle?
After extensive Googling, this 90 degree USB type-C to USB type-A adapter appeared:
Right Angle USB-C Type-C to USB 2.0 Female OTG Adapter Converter For Macbook Smartphone Laptop PC
I ordered 3x of these from Banggood.com they were delivered in good time and they work!
Before the USB type-C connector I would have suggested replacing the straight USB type-A with a right or left-angled USB type-A.
Hopefully this article has been of interest, please share this article and let me know if you replicate any of these ideas, best way to contact me is on Twitter @nickjvturner